MANAGEMENT
EVENT DESIGN
AUDIOVISUAL SUPPORT
CONTENT DEVELOPMENT
ON SITE VIDEO PRODUCTION
ENTERTAINMENT
"The ability to convert ideas to things is the secret to success."
~ Henry Ward Beecher
Put our decades of experience and our time-tested process to work for you. First, we start with a series of deep-dive, exploratory conversations to ensure that we are aligned and that we precisely understand your needs, core objectives, and know exactly what a successful event looks like for you. We will then find the perfect venue that meets those needs and objectives. Next, we go to bat for you to negotiate the contract to ensure you receive every concession available and the best price possible. Finally, you can count on us to handle every detail.
Online Event Registration
Attendee Name Badges
Team-building Activities
Room Block Management
Food and Beverage Management
Communications
Function Space Management
Signage
Offsite Events
Onsite Staffing
Décor
And more…
Registration Desk Management
Transportation
"If you can dream it" … ...we can build it."
~ Walt Disney
Like everything we do, we take a collaborative approach to stage & space design. We meticulously consult with you and connect to imagine the design, look, and feel for your event, and then our team goes to work to transform the vision into the perfect space to support the form and function of your event.
Our team is constantly researching to stay in touch with the latest technology and trends to use as inspiration to create the perfect space to compliment your event's brand, theme, and core objectives.
Our team of world-class designers creates floor plans, scale drawings, and detailed renderings to accurately illustrate what our artists, fabricators, and carpenters will construct for your event.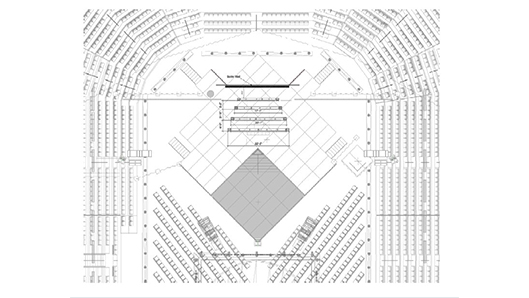 "It's a funny thing about life: If you refuse to accept anything but the very best
You will very often get it."
~ William Somerset Maugham
Sure, we have access to all the state-of-the-art equipment any event may require, but just because you own a Stratovarius doesn't make you a virtuoso. Our passionate and experienced audiovisual specialists are what make our productions great. Every technician is hand-picked for their commitment to excellence and ability to exceed your expectations. Our crew is experts in setting up, fine-tuning, and skillfully operating our technology, nailing every cue to enhance the delivery of your message.
"Excellence is to do a common thing in an uncommon way."
~ Booker T. Washington
The most important part of any meeting or event is the message that is delivered. In the end that is what inspires the audience to act. Our team of writers and presentation experts work with your executives to ensure their message is spot on!
Our talented team of graphic artists, animators and video producers will create stunning visuals that dynamically illustrate your vision keep your audience on the edge of their seats.
"The power of imagination makes us infinite"
~ John Muir
Our creative team of producers, photographers and editors can be onsite to capture executive interviews, customer testimonials or record all of your sessions for you to use for future marketing, communications, or promotions.
One of our most popular offerings is the candid/highlight video. Attendees feel like the star of the show when they see themselves on the big screen. Our team captures exciting scenes from the activities, parties, and excursions during the entire event. We then artfully edit together an entertaining, upbeat highlights video set to fun, inspiring music. We create the whole video on site and have it ready to share with your audience at the final session of your event, sending your audience off on a tremendous high note and reminding them of the fun and excitement they experienced during your event.
"All the world's a stage and we are merely players."
~ William Shakespeare
FishEye has been helping clients find and book guest speakers, musicians, and performers for over 25 years. Selecting the right entertainment or keynote speakers can make or break an event. It is vital that the speaker's and entertainer's energy and performance style pair well with your company's culture and the event's objectives. They must connect with your audience to achieve the highest levels of engagement.
Over the years, we have worked with countless speakers and entertainers. We have built relationships with many leading talent agencies from coast to coast. We are constantly reviewing and auditioning talent from all over the world, keeping us up to date on the most impactful speakers and entertaining performers available. We can help you find and secure the most exciting and memorable performers that fit your audience and budget.